Grab your Tamagotchi. American Girl just launched their newest historical dolls and they are from the decade of dial-up and Pizza Hut Book-It certificates. With stories set in 1999 Seattle, Isabel and Nikki Hoffman are the brand's first-ever set of twin characters.
Though they share the same birthday, these fraternal twin sisters are as different as can be. Isabel is bubbly, extroverted, and loves dancing to pop music—while Nicki is thoughtful, introverted, and happiest while skateboarding, writing lyrics, and listening to the alt-rock sound that got its start in Seattle. As Isabel and Nicki discover who they are as individuals, they realize they share the same girl-power goal: to be true to themselves and learn to face their fears with confidence.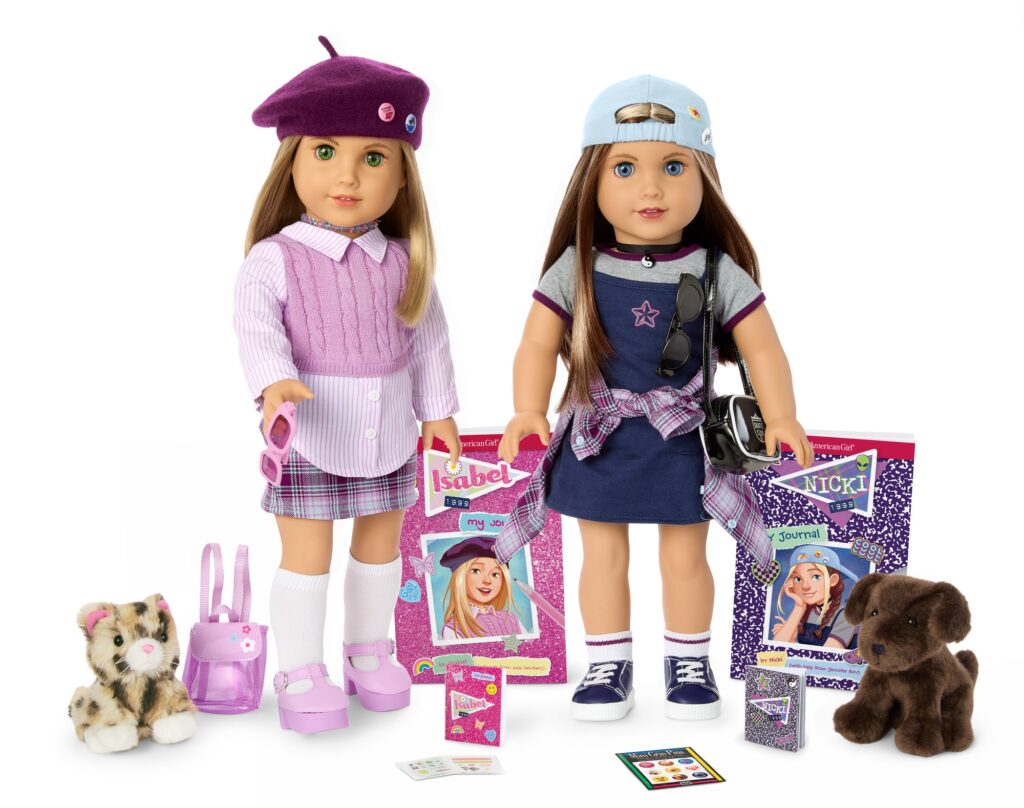 To create the stories, American Girl teamed up with real-life twin sisters Julia DeVillers and Jennifer Roy Together, they co-authored each character's illustrated journal (included with the dolls), along with a full-length novel, Meet Isabel and Nicki, coming out this summer.
The 18-inch Isabel doll features green eyes and medium-length blonde hair with platinum highlights and comes dressed in a purple sweater with attached pinstripe shirt, a multicolored plaid skirt, and pink platform shoes. Her accessories, include a beret with replicas of American Girl's '90-era Grin Pins attached, pink sunglasses, beaded flower necklace, and transparent mini backpack.
The 18-inch Nicki doll has blue eyes and long straight brown hair with two blonde face-framing highlights and arrives in a gray T-shirt under a navy T-shirt dress, a purple plaid flannel shirt, and platform sneakers. Her skater-style accessories include a baseball hat with faux American Girl Grin Pins attached, black sunglasses, ribbon necklace, and messenger bag.
Cue the nostalgia. Other accessories will bring original American Girl fan back to their youth. Pick up a doll-sized plush of the popular Miss AG Bear from the '90s; a mini version of American Girl magazine from 1999; and a replica Grin Pin Banner with images of real '90s AG Grin Pins.
Isabel and Nicki's collection is available beginning February 22, 2023, at American Girl and at all American Girl retail locations nationwide.